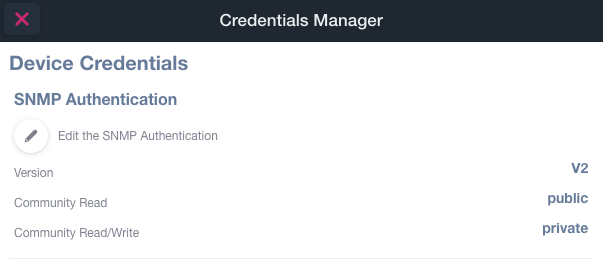 Domotz supports all major SNMP versions (v1, v2c, v3).
SNMP v1 is the original version of the Simple Network Management Protocol, and was designed to monitor devices over TCP/IP networks.
SNMP v2c is very similar to SNMPv1, but it supports 64-bit messages to serve growing networks and increased usage.
SNMP v3 was introduced in 1998, and compared with the previous SNMP versions, its setup is more complex and provides enhanced security, by introducing the two concepts of Authentication and Encryption.
If default community strings are used in your devices, Domotz will automatically start to gather SNMP information to classify your devices and you will immediately be able to define your SNMP sensors in Domotz.
If, otherwise, you customized your SNMP community strings, Domotz SNMP authentication can be set up for the whole network or can be customized for each device.
For example, in this section it is also possible to override community strings for all devices on your network that use SNMP.